Latest News from the Parish Council
Food and Toy Bank Village Collection - 3 December 2022
What is the choice for children this Christmas - food or a present?
We are so aware of the daily requests for support for groups like the Bicester Food Bank.
At a time when our money is stretched, it is hard to hear things like:
"RISING NEED, LOWER SUPPLIES".
It is even harder to hear that working families are reducing their daily meals and dropping into a food bank on the way home from work to get some supplies for their family.
Let's remember the children and teenagers as we prepare our gifts for the food/toy bank. We want them to feel that someone does care that they have a special gift this festive season.
Could you include a few extra food items and small toys/books on your grocery order and shopping so that the festive season is manageable for struggling families?
Please support the Food & Toy Bank on:
When: Saturday, December 3rd, 2022
Time: 9.00am-12.30 am
Where: Weston on the Green Village Pantry & Post Office
Thank you for your continued support as we try to regularly support the Bicester Food Bank.
Parish Council / St. Mary's Church Council / Village Hall
--------------------------
Information from NHS on their 'Help Us, Help You' Campaign: Cancer - Earlier Diagnosis
NHS England & NHS Improvement has launched a new phase of the 'Help Us, Help You'
campaign taking a radically different approach to detecting cancer earlier for patients, when it is easier to treat.
The aim of the campaign is to encourage people who are experiencing potential signs of cancer to come forward to their GP practice to help increase earlier diagnosis and improve outcomes.
The campaign is designed to address the key barriers to people seeking help, the fear around cancer diagnosis and increase awareness of the importance of body vigilance when it comes to bodily changes that could be a sign of cancer. The NHS Long Term Plan committed to increasing the number of cancers detected at an early stage one or two from half to three quarters by 2028.
Don't carry the worry of cancer with you, if something in your body doesn't feel right
contact your GP practice.
• To rule out cancer, your GP may refer you for tests. Whatever the result, your NHS is
here for you.
• Tests could put your mind at rest. Until you find out, you can't rule it out.
• If something in your body doesn't feel right or you are experiencing symptoms that last
three weeks or more, don't delay – contact your GP practice.
• It's probably nothing serious, but finding cancer early makes it more treatable.
• Contact your GP practice if you experience any of the below symptoms:
- Tummy trouble, such as discomfort or diarrhoea for three weeks or more;
- Blood in your pee - even just once;
- Unexpected or unexplained bleeding;
- Unexplained pain that lasts three weeks or more;
- An unexplained lump; or
- A cough for three weeks or more (that isn't COVID-19).
• Not all the symptoms of cancer are easy to spot. Contact your GP practice if you
experience one or more of these symptoms, for three weeks or more:
- Unexplained weight loss;
- Feeling tired and unwell and not sure why;
- Heartburn or indigestion; or
- Unusual, pale or greasy poo.
--------------------------
Foodbank Drive - 1st October 2022
The next foodbank collection will be held on Saturday 1st October 2022, 9.00am – 12.30pm at The Village Pantry and Post Office.
Useful stove top items include:
Instant soup, cup a soup and sachet soup
Cooked meat - ham, beef, frankfurters
Tinned vegetables, corn, carrots, peas
Desserts - rice pudding, Angel Delight, jelly
Spaghetti sauce
Long life drinks
Urgently needed items:
Biscuits
Tinned fish
Rice pudding
Instant coffee
Jam
Juice
Toiletries, Free From food and nappies are also useful products to supply. Bicester Foodbank currently have plenty of pasta and cereal.
Please feel free to contribute fresh food - too many cucumbers/courgettes/tomatoes? We'll take the fresh food to the Bicester Food Bank promptly and the suggestion is that there will be a good uptake.
When shopping, perhaps pop a small toy into your cart and between now and the end of November create a small collection. Our Christmas Drive will include gifts for children.
Many thanks for your ongoing support.
The Parish Council, St. Mary's Church and the Village Hall
--------------------------
Cost of Living/Energy Information
The rising cost of energy is causing widespread concern as more residents may become unable to
heat their homes. If you know anyone who is struggling to pay their fuel bills, refer them to the Better Housing Better Health service who can provide advice and in some cases access financial support.
In some cases they may be eligible for a home visit to help with heating systems and fuel bill advice. They are well connected to a wide range of local organisations and can make onward
referrals to help residents get the help they need to stay safe and well in their homes.
Telephone 0800 107 0044 or complete the online referral form here https://bit.ly/3KWsPck. To find out more about what the service can do watch this video (1min 15 secs).
More cost of living advice can be found on the County Councils webpage page:
https://www.oxfordshire.gov.uk/council/help-rising-living-costs
--------------------------
Road Closure - Akeman Street, Chesterton (near to junction with The Hale), 24 October 2022
A temporary road closure to apply to a length of Akeman Street, whilst essential pole repair works are carried out, will operate on 24 October 2022 between 09:30 and 15:30.
Drawing showing the extent of the closure and also the alternative routes for traffic via Akeman Street, B430, A4095 and The Hale.
--------------------------
Age UK - Advice on Checking Benefits Entitlement including Pension Credit & Cost of Living Payments
Age UK have highlighted their concerns over the impact of the spiralling cost of living on people as winter approaches, especially for older people and carers, particularly those who are managing on a fixed income.
Age UK have therefore launched an information campaign to ensure that people are aware of and receiving all the support to which they are entitled.
A recent JSNA (Joint Strategic Needs Assessment)bitesize report on Pension Credit has estimated that over 4,000 older people in Oxfordshire are not claiming the Pension Credit to which they are entitled, equating to a staggering £8.2m in unclaimed entitlement locally. Pension Credit also serves as a gateway to other forms of support, which could go a long way in helping some older people meet rising costs.
Information sheets to help point people in the direction of the support available include: Checking your Benefits Entitlement & Cost of Living Payments
More information from Age UK about entitlements can be found here: Benefits and entitlements for pensioners and the elderly | Age UK
--------------------------
Foodbank Drive - 10th September 2022
Our Food Bank drive in August was very successful. The focus was 'children's lunches' based on the fact that household budgets needed to cover three meals per day, not two. The total weight of our contribution was 88.75 kg - a tremendous effort! Thank you.
I've been worried that people would start to find the Food Bank requests too frequent, that the current crisis would have an effect on our giving. In discussions with some villagers, we've decided to continue the Food Banks but want everyone to know that we understand that everyone is feeling the pinch.
Why again? The beginning of September is costly for families and especially those with multiple children. School uniforms, shoes, supplies add up to a large chunk of the household budget. What is left? Is there enough for a substantial evening meal? Will children have to be satisfied with a hot school lunch and small snacks otherwise?
How can we help? The Trussell Trust has published a list of easily warmed up food - not using an oven as the hob is cheaper to use.
Food that cooks quickly:
Instant soup, cup a soup and sachet soup
Cooked meat - ham and beef
Tinned vegetables, corn, carrots, peas
Desserts - rice pudding, Angel Delight
Long life drinks
Always needed items:
Instant coffee
Tinned tomatoes (400g)
Tinned meat/fish
Jam
Toiletries
Free From Food
Nappies
Please feel free to contribute fresh food - too many cucumbers/courgettes/tomatoes? We'll take the fresh food to the Bicester Food Bank promptly and the suggestion is that there will be a good uptake.
When shopping, perhaps pop a small toy into your cart and between now and the end of November create a small collection. Our Christmas Drive will include gifts for children.
Our September Food Bank Drive is on September 10th at the Village Shop, 9am - 12.20pm - thank you!
Diane Bohm
--------------------------
NHS: Run out of Regular Medication - Visit NHS 111 Online
Run out of your regular medicine - request a limited emergency supply online at 111.nhs.uk to collect from a pharmacy.
--------------------------
--------------------------
The autumn COVID-19 booster and flu vaccination programme was announced by
the UK Health Security Agency on 15th July 2022. All over 50's will be offered a covid 19 booster and flu jab this autumn.
--------------------------
Climate Action Oxfordshire - New Website
A new website offering practical advice for Oxfordshire people wanting to reduce their carbon footprint and save energy has gone live.
Climate Action Oxfordshire – www.climateactionoxfordshire.org.uk – lists measures people can take
and rates them according to effort, impact, and cost. It also gives people an idea of what financial
savings they can make and includes tips and links on how to get started.
It is a joint venture set up by Oxfordshire County Council, Oxford City Council, Cherwell, South
Oxfordshire, West Oxfordshire, and the Vale of White Horse district councils, and OxLEP – the
Oxfordshire Local Enterprise Partnership.
The one stop shop has sections aimed at individuals, communities, and organisations, including
businesses, and advice on transport, lifestyle, shopping, home and biodiversity matters.
The Climate Action Oxfordshire website contains filters so that users can tailor it to their own
circumstances. It will be regularly updated with new information and advice to help the county's
residents do what they can to reduce their carbon footprint.
--------------------------
Volunteers in Oxford, Bicester and Didcot are needed to fill in an app-based travel diary.
Oxfordshire County Council want to understand the ways people currently and could use transport. One of the most effective is to ask those already using the network to fill in travel diaries. It gives a realistic snapshot not only of the journey but also the experience of travel. This insight is invaluable in developing new services and planning long term for communities. They are working with a partner, Tracsis, who supports the collection and analysis of the information you give, to help shape the future of transport in the Oxford, Bicester and Didcot communities.
What you need to do:
For up to seven trips, you'll need to record how and when you travel and your experiences of doing so. You'll then be eligible for a voucher as a thank you reward.
Download and register the app from Google Play or Apple Store - search for 'MOBYXapp'.
Complete the introductory questionnaire
Complete a travel diary of between four and seven trips on agreed days
Answer another questionnaire based on your results
After registering, you'll receive messages to help you complete the travel diaries. The voucher reward will be emailed within 28 days of completing the diaries. You can choose which one of the 150 retailers (such as Amazon, Argos, Ikea, Marks and Spencer) the voucher is for.
You will need to actively input information for roughly 30 minutes and consent to being monitored on your travel patterns through the app on your phone.
Read the terms and conditions.
Data Protection: Tracsis will not use your personal information for any purpose other than that of managing the survey and reward voucher.
All other information collected during the survey will be kept by Moby X Software Ltd / Oxfordshire County Council for the purposes laid out in the Harmony app privacy notice
--------------------------
Electoral Registration Email sent by Cherwell DC
Confirmation that Cherwell District Council has sent an email to confirm your electoral registration details.
In a bid to save thousands of sheets of paper, Cherwell District Council wrote electronically to over 31,000 residents on Thursday 21 July 2022 as part of their annual electoral registration drive.
The email is from cherwelldc@householdresponse.com
Yvonne Rees, Electoral Registration Officer, said: "We check and update people's electoral registration details every year, and normally this involves writing a letter to every household in the district.
"Where people have already sent us their email address in connection with their electoral registration, we are going to embrace that method and send you an email. It will save the taxpayer money and be better for the planet too.
"We will send a letter to households we don't have an email for from 8 August, and anyone who doesn't pick up the initial email will receive a letter to make sure they have the opportunity to respond. Please read your email or letter carefully to find out what steps you need to take next.
"If your details have changed, it's key that you provide us with an update. It only takes five minutes."
--------------------------
Energy Rebate Payment
The government announced in February 2022 an initiative to help households with rising energy costs; this being certain households qualifying for a rebate of £150.
Cherwell DC has made payment to more than 88 per cent of eligible properties to date. For those properties that have not yet applied, if you wish for the £150 to be paid to your bank account please apply by Sunday, 31 July 2022.
Letters have been issued throughout May and June 2022 providing residents with the necessary information to allow for an application to be made.
If an application is not received by 31 July 2022, the £150 payment will automatically be transferred to the Council Tax account for eligible customers. Once the payment has been credited to the Council Tax account, a revised bill will be issued.
If you are eligible for the payment but do not wish to receive the £150, please contact Council.Tax@Cherwell-dc.gov.uk. You will need to quote your Council Tax account number and 'refusal of energy payment' in the subject line of the email.
All payments must be completed by end September 2022.
--------------------------
Garden Waste - Brown Bin Removal
It isn't too late to sign up to have your garden waste collected. To take out a subscription visit this page.
Since the separation of food and garden waste streams in March Cherwell District Council have collected 4,360 tonnes of garden waste and reduced the amount that goes into the green bins by 732 tonnes.
If you'd rather not have your brown garden waste bin emptied Cherwell District Council will come and collect it.
Send Cherwell DC your request to have it removed by filling in this form, and they will come and get it within 21 days of booking: Brown bin removal
--------------------------
Go Jaunty App - New digital guide to local walks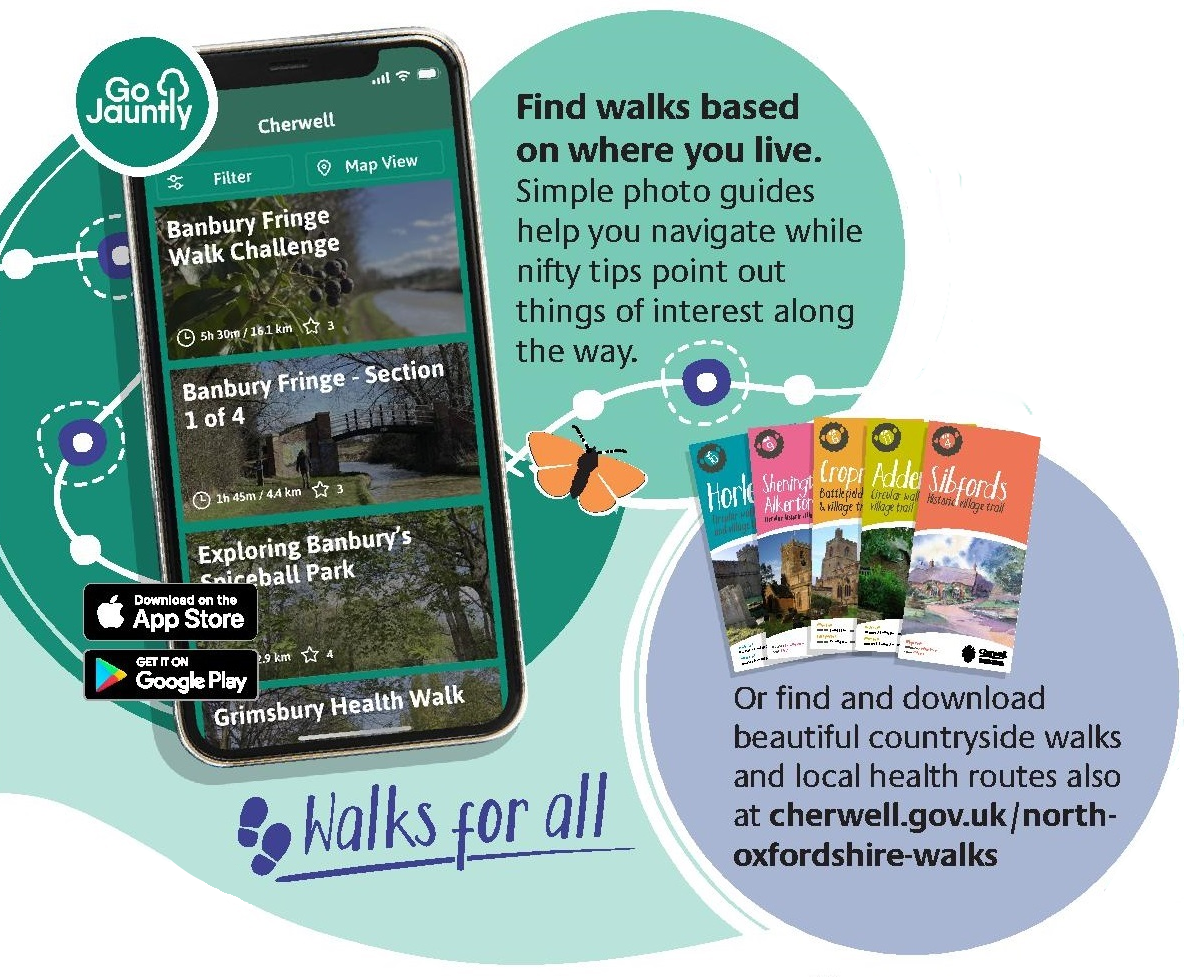 Try the free, easy to use Go Jauntly app to help you get out and about in your local area.
Cherwell District Council are working in partnership with Go Jauntly to digitise local countryside walks and health routes. Several walks are available now in and around Banbury and more are being added all the time.
Once you've downloaded the app, local walks will be easy to find. Simple photo guides help you navigate and the app will tell you about interesting places and what you can see in nature along the way.
Use the green routes feature to find circular nature-filled walking routes – and connect with nature every day using the nature notes feature.
--------------------------
Better Housing Better Health - Support with Fuel Bills
With the rising cost of living, specifically with fuel bills, Oxfordshire local authorities are keen to make sure residents who are struggling (or at risk of struggling) get the support that's out there this summer, before winter comes around again.

The Better Housing Better Health (BHBH) service, provides free, local telephone support to help people stay warm and well in their homes (e.g advice, signposting to energy efficiency grants, emergency fuel vouchers etc). In addition, certain residents might be eligible for a home visit (link to an explainer video) for those people where the telephone isn't as effective in working out what help is available for them.
Last year BHBH helped nearly 750 residents and found a total of £36,000 that people had missed out on. We know homes do not have mains gas: people are more likely to find it harder to heat their homes affordably.
BHBHs contact details for either referrals (with appropriate consent) or calls direct from residents to 0800 107 0044 or https://www.bhbh.org.uk/ or bhbh@nef.org.uk.
--------------------------
Oxfordshire County Council Trading Standards are carrying out free testing of electric blankets during September and October this year and bookings are now open: call 01865 895999 Option 3 or email duty.officer@oxfordshire.gov.uk
Cherwell date is 21st September 2022.
--------------------------
Heatwave Action - Level 4
The Met Office have now issued a red extreme heat warning for Monday and Tuesday next week, covering parts of Oxfordshire.
https://www.metoffice.gov.uk/public/weather/heat-health/?tab=heatHealth&season=normal#?tab=heatHealth
What to expect
Population-wide adverse health effects experienced, not limited to those most vulnerable to extreme heat, leading to serious illness or danger to life. Government advice is that 999 services should be used in emergencies only; seek advice from 111 if you need non-emergency health advice.
Substantial changes in working practices and daily routines will be required
High risk of failure of heat-sensitive systems and equipment, potentially leading to localised loss of power and other essential services, such as water or mobile phone services
Significantly more people visiting coastal areas, lakes and rivers, leading to an increased risk of water safety incidents
Delays on roads and road closures, along with delays and cancellations to rail and air travel, with significant welfare issues for those who experience even moderate delays
You may find some useful information and links on the Oxfordshire County Council website. This can be found here: Hot weather across England - warnings and advice issued (oxfordshire.gov.uk)
There are also some useful links below for additional advice from the government about staying safe in the heat.
Beat the heat: keep cool at home checklist - GOV.UK (www.gov.uk)
Beat the heat: staying safe in hot weather - GOV.UK (www.gov.uk)
--------------------------
Cherwell District Council are aware that the cost of living is becoming increasingly hard for many residents and would like to support you in any way they can. Cherwell District Council have a dedicated support page, which is updated as new advice and help becomes available.
Topics currently covered on the support page include:
Rebates, discounts and benefits
Dealing with high gas and electricity bills
Foodbanks
Support with rent or mortgage payments
Debt and money advice
Help and advice
If you are struggling at all please get in touch with Cherwell District Council either via their website or on 01295 227001 and they will do their best to get you the right support.
--------------------------
Oxford United Football Club Relocation Survey
As many of you may be aware Oxford United Football Club are looking to secure a new home, with their main proposal being Stratfield Brake in Kidlington. The football club have launched a dedicated website about the proposal, as well as a survey to find out views from local residents. To find out more information and to take part in their survey please go to: https://oufcstadium.co.uk/
--------------------------
Village Baby Bank Collection - 2nd July 2022
The focus of our donations this month will be to the BABY BANK in Bicester. The Food Bank actually sends all of their donations of baby and new mother items to the local Baby Bank.
As we are learning from the press, the need for food and supplies is increasing. Families with babies and young children are struggling to feed the little ones.
We can help.
The Baby Bank accepts nappies (open packets are fine), wipes, toiletries, baby food and formula which have a good use by date on.
The Baby Bank takes donations of good quality baby items such as clothes, bedding, towels, shoes, cots, pushchairs, highchairs, bouncers etc up to the age of 5 years old.
The Baby Bank also collects items for mothers such as sanitary and maternity products that could be used in a hospital bag.
Please bring your donations to the pop-up donation area at the Village Pantry and Post Office on Saturday 2nd Julyfrom 9am – 12.30pm.
If you don't know what to buy please donate some money and the shopping can be done for you!
Thank you - St. Mary's Church, Village Hall and Parish Council
--------------------------
NHS COVID Vaccinations - 5-11 Year Olds
All children aged 5-11 continue to be offered vaccination against Covid-19 vaccine.
Two doses of the vaccine (at least 12 weeks apart) should give the child long-lasting protection against serious complications of infection and some protection from mild symptoms. To book an appointment, please visit https://www.nhs.uk/covidvaccination or call 119.
The NHS wants to support you to make an informed choice with more information available here COVID-19: A guide for parents of children aged 5 to 11 (publishing.service.gov.uk)
If you do not know your child's NHS number you can get it:
by checking your child's personal health record (the red book given to you when your child was born)
by checking any NHS letters, prescriptions or test results you may have received for your child
by going to the UK website
by asking your GP practice to help you.
--------------------------
Naming of Playing Field - Event Invitation - Saturday 4th June, 10.30-11.30am at the Playing Field
All villagers are welcome to join members of the Parish Council at the Playing Field for the naming of the field and Jubilee bench unveiling. This event marks the purchase of the playing field from the Duchy of Cornwall and we are delighted to have one of our villagers, John May DL OBE, Secretary General of The Duke of Edinburgh's International Award as our honoured guest who will cut the ribbon.
--------------------------
Swift numbers have gone down so rapidly in the last 25 years that they are now Red-listed as 'Birds of Conservation Concern'. There are several likely causes of this decline but the loss of nest sites is most significant. Swifts come back to the same place every year and nest in small gaps under eaves and in the walls of buildings. These are easily lost when buildings are repaired.
The Council has supported and promoted the Cherwell Swifts Conservation Project (CSCP) since it began in 2008. The Project receives and uses information from Swift watchers across the district to protect existing nest sites, encourage Swift-friendly building work and enable the provision of new places for them to nest both in old and new buildings.
If you are interested in volunteering to be a be a Swift Watcher or if you see a building with nesting Swifts, or groups of Swifts screaming around over roof tops (a sure sign that they are nesting nearby), please contact the Project coordinator, Chris Mason at candomason@outlook.com
--------------------------
Annual Parish Meeting - 27th April 2022, 7.30pm
The Annual Parish Meeting is a meeting of all members of the parish. Its purpose is to report the highlights of the year and to give members of the parish the opportunity to ask questions and voice concerns.
Topics that will be covered will include:
Traffic through the village, speed limits
Playing Field project & official naming event
Technology project
Oak Tree path progress
Review of housing allocation
Social Housing Register
Vandalism
If you have other concerns please email the clerk (clerk@westononthegreen-pc.gov.uk) so we are able to give a fully informed answer.
--------------------------
Election of Weston on the Green Parish Councillors - April 2022
Notice of an Uncontested Election - the following people have been duly elected Parish Councillors for Weston on the Green Parish Council to commence office on 9th May 2022:
Diane Bohm

Susan Davis

John Miller

Neil Mullane

Colin Rosser

Robin Stafford Allen
--------------------------
An election will be held on 5th May 2022 to elect Councillors to the Parish Council (if contested) and also Councillors to Cherwell District Council (Launton & Otmoor ward).
Voting to take place in Weston on the Green Village Hall, 7am-10pm.
--------------------------
North Lane Footpath & Oak Tree
Please find a link to a report commissioned by the Parish Council on the footpath installed at the end of North Lane and its potential impact on the oak tree.
Oak Tree Arboricultural Report - February 2022
--------------------------
All Stars & Dynamos Cricket Summer Programme
Local cricket clubs across the county run an England Cricket initiative called All Stars Cricket and Dynamos Cricket.
All Stars Cricket provides a fantastic first experience for all children aged 5-8 years old where they're guaranteed jam-packed fun, activity and skills development. The programme is designed to introduce children to the sport, teaching them new skills, helping them make new friends and have a great time doing so. Each participant that signs up will receive 8 weeks of cricket sessions, personalised All Stars t-shirt, bat, ball and backpack. More information can be found - here
Dynamos Cricket (8-11 years) is an action-packed, fun programme centred around game play with each session including a skill building activity aimed at providing an active warm-up and focusing in on a skill for that week. During the programme, children will play 60-ball countdown cricket each week, with the skill building activity changing week to week. Every child that signs up will receive a personalised New Balance t-shirt. Information can be found here.
--------------------------
--------------------------
Bletchingdon Road / Church Lane Roadworks - Commencing 16th March 2022
Oxfordshire County Council have informed the Parish Council that they will be undertaking works to repair the degraded verge along Bletchingdon Road, adjacent to Gallosbrook (where the barrier is currently located).
This work will involve a two way traffic light system for approximately two weeks.
Please note that whilst this work has been scheduled Oxfordshire County Council may change the timings.
--------------------------
Annual Village Litter Pick - 26th March 2022
Please come along and help with the annual village litter pick on Saturday 26th March 2022.
Please meet at the Village Hall at 09.30am.
All equipment and guidance will be provided.
--------------------------
NOTICE OF CASUAL VACANCY
Notice is hereby given that there are currently two vacancies among the members of the Parish Council. Any person willing to fill this vacancy should apply to the Clerk in writing via email on or before 28th February 2022.
Necessary skills to be a good councillor include good communication skills, problem solving, analytical thinking, team player, caring about the community and willing to take an active role.
The applicant's name must appear on the current register of the Voters List or the applicant should during the whole of the twelve months preceding the date of this notice resided in or within three miles of the parish or the applicant's only place of work during the whole of the twelve months preceding the date of this notice is in the parish. The applicant must not be debarred from standing as a Councillor.
PUBLIC elections cannot be held until May 2022 but for the interim period election to the aforesaid Council will be voted for by the present sitting number of Councillors.
A public session will be held during 2nd March 2022 Parish Council meeting where discussion between existing Councillors and potential candidates will be held.
If you wish to find out more information on becoming a councillor and whats involved please do not hesitate to contact one of the Councillors.
Jane Mullane (Parish Clerk)
Notice Date: 16th February 2022
--------------------------
Playing Field Maintenance & Volunteers
As a village we now own the playing field and the spinney, the Parish Council is arranging for an audit by a professional of the condition of the trees in the spring.
A contractor has trimmed the hedge along the frontage of the playing field which was laid some years ago, and we have identified that the spinney undergrowth needs clearing to make access safer and easier and some wood cleared from around the footpath, where it is overhanging.
To this end we are appealing for volunteers to let Robin Stafford Allen (01869 350464) or the clerk (clerk@westononthegreen-pc.gov.uk) know if they would be keen to help in February or March to work in the spinney for a day, or perhaps two.
All tools and guidance will be provided.
--------------------------
New Housing at Southfield Development - Cherwell District Council Housing Register
As you may be aware, a Parish Housing Needs Survey was completed last year by Community First Oxfordshire to assess the need for affordable housing for people with a local connection to the parish. The results showed a total of 11 households as being in need of affordable housing, 4 for rented accommodation and 7 for intermediate tenures such as shared ownership. This data adds to and supports the housing needs data contained in the Weston on the Green Neighbourhood Plan, 'made' in May 2021 and will assist with assessing future planning applications and ensuring that appropriate types and sizes of affordable housing are provided in the Parish.
Not all of the households whose needs were identified in the survey are registered with Cherwell District Council. It is also likely that there are other households whose needs were not identified by the survey and who are not registered. We would like to emphasise that, even if you completed a housing needs survey form, in order to be considered for an affordable property it is essential to be registered with Cherwell District Council for rented accommodation and/or the local Help to Buy agent for shared ownership.
The new properties being built at Southfield Farm are almost complete and handover to a Housing Association is expected within the next few weeks, provided that there are no further delays. We would encourage anyone in housing need with a local connection to the parish to register with the Council and/or Help to Buy as soon as possible. The contact details for doing this are:
For Housing register enquiries, email housingregister@cherwell-dc.gov.uktelephone 01295 227004.
For Help to Buy enquiries, email support@helptobuyagent3.org.uk telephone 0800 456 1188
If you have any questions regarding the above details please contact the Strategic Housing team at Housing.Strategy@Cherwell-dc.gov.uk
--------------------------
Vaccinations Update from Cherwell District Council & NHS - January 2022
Walk-in vaccinations at Kassam Stadium
The mass vaccination centre at the Kassam Stadium in Oxford resumed walk-in vaccinations from Monday 10 January. This means that anyone eligible – including 12-15 year olds – can get a jab without the need for an appointment. It is anticipated that this offer will be available between 9am and 7pm most days, except when Oxford United is playing at home at the weekend.
Residents are advised to check opening times on the NHS Grab A Jab website before travelling to the stadium. The website lists vaccination sites that offer walk-ins and opening times. People can also continue to book appointments at the Kassam by visiting the NHS website.
Getting vaccinated and boosted remains the best thing you can do to protect yourself and your families against getting seriously ill from Covid-19. If you're unvaccinated it is never too late to come forward for a vaccine – all vaccination sites will welcome you.
Vaccinations and testing positive for covid
If you test positive for Covid and have a vaccine appointment booked; please cancel it, as soon as possible, so that someone else can use your space. You can rebook your appointment for 28 days after you tested positive or from when your symptoms first started.
Vaccinations for 12 – 15 year olds
The NHS is now offering a second dose to young people aged 12 - 15 years 12 weeks after their first dose. Young people or their responsible adult can book using the NHS website or, if they are unable to use the online service, by calling 119. There are also walk-in options, which you can find on NHS online vaccine walk-in finder. Please visit the NHS website for further information about vaccinations.
Booster vaccinations
Everyone over the age of 18 is entitled to a COVID-19 booster vaccine and you are strongly encouraged to take up your booster if you have not already done so. You can book on the NHS website or search for local walk-in options. Please do not contact your GP about an appointment for a booster.
--------------------------
Changes to Food and Garden Waste Services
The brown bin will be changing to a chargeable service, to be used for garden waste only, from 1 March 2022.
Registration is now open and people will be charged £36 for their first annual subscription licence if they sign up before 28 February 2022.
For anyone signing up for the garden waste service on or after 1 March, the cost of the first subscription licence will be £40.
A new weekly food waste service will also begin on 1 March 2022. New outdoor food waste caddies will be delivered to residents' homes at no additional cost. The deliveries will be made in phases over the course of January and February 2022 and residents will be notified of the deliveries in advance by hangers fixed to their bin handles.
--------------------------
Christmas Tree Composting - Kerbside Collection
Cherwell District Council's waste and recycling crews are now collecting trees from the kerbside as they empty people's brown bins. The trees are taken to an in-vessel composting site at Ardley where they are composted at high temperatures before being redistributed to farmers as compost.
Residents leaving large trees out for composting are asked to cut them into pieces that are four feet tall or smaller. This makes it safe to load them into the recycling trucks. The pieces of Christmas tree can then be left next to the brown bin on collection day if they do not fit into the bin itself.
People should make sure that all decorations are removed from the trees before putting them out for collection. Broken fairy lights and other small electrical items will be taken away by the crews if placed in a standard size carrier bag and left on top of any bin on collection day.
Alternatively, people whose real Christmas trees are potted and still have their roots can care for them in their gardens until next year.
--------------------------
Have Your Say on the Future of Transport in Oxfordshire
People who live, work in, or visit Oxfordshire are being invited to have their say on a plan to deliver a zero-carbon transport network by 2040. The draft Local Transport and Connectivity Plan (LTCP), which was approved by Oxfordshire County Council's Cabinet last October, aims – among its many ambitions – to cut car journeys by a quarter by 2030 and reduce them by a third by 2040. It also plans to increase the number of cycling trips from 600,000 to one million by 2031. You can have your say on the plan until 16 March by visiting Let's Talk Oxfordshire. You can also read more on the county council's website.
--------------------------
Oxfordshire County Council & Cherwell District Council Budget Proposals 2022-2023 Consultations
Oxfordshire County Council:
An overview of the council's budget proposals, including key investments linked to priorities, is contained in the news story, published on the county council's website. Our budget consultation booklet provides background information on the council's finances and our approach to setting the budget this year. You are encouraged to read this before having your say.
To have your say on Oxfordshire County Council's 2022/23 budget proposals, including our proposed council tax level for 2022/23 and the Oxfordshire Fair Deal Alliance's priorities, please visit letstalk.oxfordshire.gov.uk/budgetconsultation and complete the online survey. All responses must be received by Wednesday 5 January 2022.
Feedback from the budget consultation will be considered by the council's Cabinet on 18 January 2022. Oxfordshire County Council will meet to set its budget and agree a new strategic plan on 8 February 2022.
Cherwell District Council:
Cherwell District Council's budget consultation 2022/23 is now open and although the timeframe for the consultation is tight they highly value your feedback and would like to invite you to have your say.
The budget consultation booklet provides background information on the council's finances and approach to setting the budget this year.
To have your say on Cherwell District Council's 2022/23 budget proposals, including the proposed council tax level for 2022/23, please visit letstalk.cherwell.gov.uk/budgetconsultation and complete the online survey. All responses must be received by Tuesday 4 January 2022.
Feedback from the budget consultation will be considered by the council's Executive on 7 February 2022. Cherwell District Council will meet to set its budget on 28 February 2022.
Note: As we move through the winter, the situation may change as we get to know more detail about the financial support available to the council from government.
--------------------------
Covid-19 Update from Oxfordshire County Council
To help reduce the spread of the Omicron variant of Covid-19 the key message is for people to continue to take sensible precautions:
- get a PCR test if you have symptoms
- self-isolate when asked
- wear a face covering in crowded and enclosed spaces (follow Government guidelines) including shops and public transport
- ventilate rooms
- get your vaccine and booster as soon as you can
- follow instructions about testing and self-isolating if they are contacted by NHS Test and Trace.
People should visit the NHS website to book their vaccination.
All the details on keeping safe and stopping the spread, self-isolation and symptom-free and symptomatic testing can be found on the County Council's website.
To keep up to date on the latest Government advice on Covid-19 please visit Coronavirus (COVID-19): guidance and support - GOV.UK (www.gov.uk)
--------------------------
Household Support Fund for Struggling Households
A new, targeted programme has been set up by Cherwell District Council using money from the government's Household Support Fund. It will help pay for vulnerable households' food, energy, and water bills - but other costs can be covered too, including clothing and replacements or repairs for white goods or essential transport costs.
The funds are awarded based on a household's specific situation and needs and will usually be in the form of grocery vouchers or utility bill payments.
Anyone who believes they will need this support is invited to call the local Citizens Advice Household Support Fund helpline on 0300 303 0993. They should leave their details in a voicemail and wait for a call back to be assessed.
--------------------------
Rural Isolation – Healthwatch Survey
Community First Oxfordshire (CFO) on behalf of Healthwatch Oxfordshire is undertaking a short survey to better understand the levels of rural isolation felt in rural communities. The survey is anonymous and is designed for individuals to have their say.
To complete the online survey click this link: https://www.surveymonkey.co.uk/r/RuralIsolationOxon
A report of the survey results, which will include recommendations based on these results, will be produced and published in March 2022.
If anyone would like help filling in the survey or would like it in another format/large print/language please contact the CFO team on info@communityfirstoxon.org
--------------------------
New rules from DEFRA to combat Avian Influenza
To reduce the risk of the transmission of avian influenza to poultry and other captive birds from wild birds or any other source, the Secretary of State considers it necessary to declare the whole of England to be an Avian Influenza Prevention Zone.
There is now a requirement for poultry and other captive birds to be housed or otherwise kept separate from wild birds.
Further specific information can be found at the following link:
https://assets.publishing.service.gov.uk/government/uploads/system/uploads/attachment_data/file/1035905/AI-prevention-zone-declaration-mandatory-biosecurity-housing-measure.pdf
--------------------------
North Lane Footpath Entrance Maintenance - Please Avoid Use
Please note on 16th November 2021 work is being undertaken on the footpath entrance off North Lane for the footpath linking North Lane and Westlands Avenue across top of School Field.
We kindly ask if you could please avoid using this entrance to the footpath and use the alternative paths across the School Field instead.
Once complete please be careful as the area will only have a layer of top soil while the new grass seed grows and we need to allow time for it to bed in.
Many thanks for your support and we apologise for any inconvenience caused.
This work, on behalf of the Parish Council, has been made possible by a Containing Management Outbreak Fund grant received from Cherwell District Council.
--------------------------
Neighbourhood Watch Crime and Community Survey 2021
Neighbourhood Watch want to hear your thoughts about crime, community, and how effective Neighbourhood Watch is via the Neighbourhood Watch Crime & Community Survey 2021.

www.surveymonkey.co.uk/r/CL72YGJ

The survey is open to the public across England and Wales, regardless of whether they live in a Neighbourhood Watch area or not.

The results will enable the Neighbourhood Watch to better understand on a national and regional level crime, fear of crime and benchmark whether membership to a Neighbourhood Watch scheme, or living in a Neighbourhood Watch area, has an impact on levels of crime, concern about crime, neighbourliness, and the willingness of communities to work together.
All data will be anonymised and aggregated and will be used by Neighbourhood Watch to ensure their work is effective, inclusive, and representative.

The survey closes on the 16th November 2021.
--------------------------
October Update: Fibre-to-the-Premises Broadband Project
It has been very quiet regarding the project to upgrade our internet connection. Simply put, over 3,000 projects were submitted to the scheme in such a short period of time that the Government's review process was unable to cope. In addition, the new version of the pledging scheme resulted in many of the infrastructure companies (like Openreach, Gigaclear etc) to query it - causing further delays.
We now have reason to believe pledging can start end October / early November.
As a reminder, we needed ~140+ pledges to fully fund the project under the old voucher scheme and we expect to know the exact number needed when we start pledging. We will update you as soon as we have further information.
Please contact the clerk (clerk@westononthegreen-pc.gov.uk) if you would like a refresher on the project via zoom.
--------------------------
Drone and Filming Activity in Village - 16th October 2021
Residents of the village may have been concerned to see people and vehicles in and around the centre of the village on Saturday 16th October, apparently filming for a Channel 4 sponsored programme 'Hunted'. The number of vehicles and their positions caused serious disruption to traffic flow and inconvenience to people using the Village Hall and the drone that was used around the Church could have been a threat to safety as well as privacy.
No prior notice had been received ahead of this event.
On being contacted, Channel 4 offered an apology and a donation was made to Macmillan Nurses from a member of their team.
The Parish Council would like to make it clear that this kind of inconsiderate behaviour will not be tolerated as we take the privacy of both residents and visitors to the village seriously. While donations to charity are always welcome, we do not accept that poor behaviour can be mitigated by payment.
The Parish Council will be writing formally to Channel 4 to make our views clear.
If anyone in the village has concerns that their privacy is at risk of infringement, please contact any one of us or the clerk (clerk@westononthegreen-pc.gov.uk) to let us know.
--------------------------
Closure of Recycling Centres for Essential Maintenance & Deep Cleaning
During November, household waste recycling centres will be closing for two days to carry out a deep clean and essential maintenance to keep the sites safe, looking clean and fresh and helping to improve the customer experience when using these much-valued facilities. This includes jet washing the sites and structures, repainting lines and safety areas as well as other general works.
Residents are asked to plan ahead for these closures, ideally holding on to their waste until the site reopens or if that is not possible visiting one of the neighbouring sites.
| | |
| --- | --- |
| Site | Dates of closure |
| Alkerton (Banbury) | 2 and 3 November |
| Ardley (Bicester) | 4 and 5 November |
| Dix Pit (Stanton Harcourt) | 23 and 24 November |
| Drayton (Abingdon) | 9 and 10 November |
| Oakley Wood (Wallingford) | 16 and 17 November |
| Redbridge (Oxford) | 18 and 19 November |
| Stanford (Faringdon) | 11 and 12 November |
The closures have been scheduled on quieter midweek days to minimise disruption and sites will reopen at 8am the following day. Oxfordshire County Council apologise for any inconvenience this may cause and thank residents for their understanding. Full details can be found on OCC website including details of the nearest alternative site during closures. For those residents with van or trailer permits, please note these can be used at any of our centres.
--------------------------
Cherwell October Half Term Holiday Clubs: 25-29th October 2021
Cherwell District Council's holiday hubs put creativity on a level playing field with sports, offering arts and crafts alongside everything from tag rugby to hockey, basketball, and swimming.
The sessions will be running in Banbury and Bicester from 25 October to 29 October and are for children from five to 15 years old.
Taking place at North Oxfordshire Academy in Banbury and Cooper School in Bicester, the hubs cost the equivalent of just £2.50 per hour.

All the staff leading the sessions have pa