Planning
Last updated 18th January 2019
Planning applications can be viewed via the CDC Planning Portal or by visiting Cherwell District Council Offices in Bodicote, Banbury.
For information relating to the following Planning issues please click on the links below
Listed Buildings,
Conservation Area (including work on Trees)
Oxford Green Belt
The Planning Portal is provided by The Department for Communities and Local Government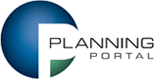 (DCLG) and provides a wealth of information on planning and building regulations. If you are intending to make changes to your property, whether it be to build an extension, erect a garden shed, demolish a building or fit solar panels on your roof, all the information you need is on this portal. There is an interactive guide which allows you to see what the planning requirements are, if any, for your project. To get to the portal just click the logo to the right.
Applications for Planning Permission:

Planning permission can only be granted by the planning department of Cherwell District Coun
cil and all planning applications must be submitted to them.
Applications will sometimes be dealt with by the planning committee but can be dealt with by a planning officer under delegated powers. An application and any objections thereto, will be considered only in respect of planning regulations.
However, if the planning committee or planning officer feels that there are other issues to be taken into account such as building, water or highways regulations, these may referred to the relevant department or authority. As a result of this, even if an application is given permission, it may be subject to conditions laid down under these other regulations.
Persons who may be affected by a development have the right to object but only on grounds of planning regulations, although they may raise issues covered by building, water, highway or other regulations so that the relevant departments or authorities can be made aware. Objections to planning applications need to be made in writing to the relevant planning officer by the advertised deadline.
Members of the public can view planning applications at the offices of Cherwell District Council in Bodicote, Banbury. Planning applications can also be viewed online at the District Council's planning portal which can be reached by using this CDC Planning link
Role of the Parish Council in Planning Applications

All applications for planning permission are notified to the Parish Council and will be discussed at a Parish Council meeting. Prior to this meeting a parish councillor will have inspected the planning application documents, visited the site of the proposed development and, where possible, spoken with nearby affected residents to identify any problems or issues arising.
It must be noted that the Parish Council does not have the power to grant or refuse planning permission.